This is my latest effort toward finding the Holy Grail of shirt patterns. Although I do like this one, I will also be trying out the other two unused shirt patterns in my collection. I know everybody talks about their fabric stash but, personally, I think my pattern stash is way more out of control!
As far as this particular pattern goes, I'd recommend it pretty highly. It is a Connie Crawford pattern and once you look past the terrible illustrations, its a pretty nice shirt. It has a nice feminine shape to it and the pattern comes with seperate cup size patterns. I cut between a M and L and used the D-DD cup pattern.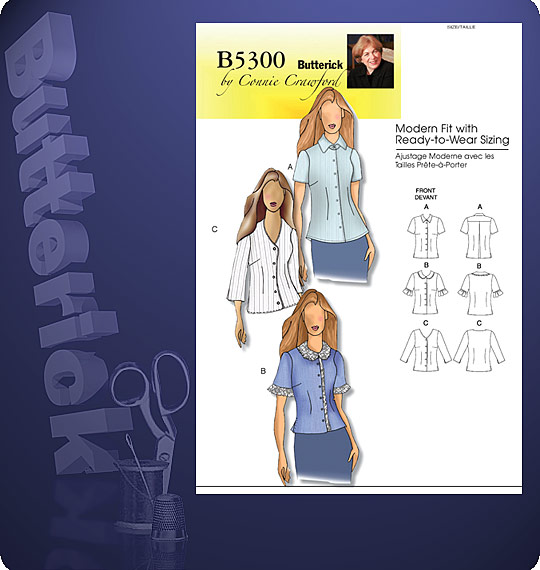 I did my usual slope shoulder adjustment, but did not shorten the bodice or the sleeves. I think the length is just fine and I'm not quite 5 feet.
Speaking of the sleeves-- the fashion illustration shows a vent at the outside of the sleeve, but on the line drawing it's on the inside. The pattern itself also has the vent on the inside (underarm seam). I don't know why you'd want a vent under the sleeve, so I put mine on the outside. I folded the cuff RS to RS, stitched a triangle then clipped it and turned it.
One more pattern oddity:
Isn't the dart supposed to point at the bust point? My BP is the pencil mark, so I left the dart where it was, which was perfect.
This fabric shredded like crazy and I believe I lost a bit of my seam allowance. Because of that, I think it's a hair smaller than I'd like. And beware, the collar and stand have only 3/8 inch seam allowances.
The fabric up close: doesn't it look like there's pandas hiding in there!?
The fit of this pattern was pretty darn good and it could have come a bit closer to perfection if it had had a long sleeve version, so I will be moving on for know. I'll see how it stacks up against the two other
candidates.